"
Hi! Do any of you bitches have some gum?
"

—Frankie to women gossiping about her
Frances "Frankie" Bergstein (née Mengela)[2] is one of the main characters in Grace and Frankie. She is the ex-wife of Sol Bergstein, mother of Coyote and Nwabudike Bergstein, and best-friend/housemate of Grace Hanson.
She is a member of the Bergstein Family.
Biography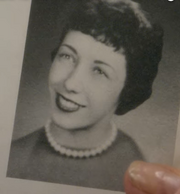 Frances "Frankie" Mengela was born as the eldest of three children. As a child, she was really close to her sister Teddie but they grew apart over the years. Her brother Robin was killed in a car accident as a teenager. Frankie, 18 at the time, left the house because of how the grief affected her parents.
She married Sol Bergstein. Before the wedding, her sister Teddie tried to warn her Sol might be gay (which turned out to be true). Frankie broke off all contact because of this.
Frankie regretted not being able to get pregnant but she and her husband adopted and raised two sons: Nwabudike "Bud" Douglas Bergstein (1984) and Coyote Bergstein (1983). She considered naming Coyote "Robin" but ulitmately decided not to.

Trivia
Frankie is an aspiring artist.
Frankie often meditates, smokes drugs and goes on spirit quests.
Her Twitter handle is "suckitaynrand".
Her favorite restaurant is Del Taco.
Frankie drives a (usually filthy) Nissan Leaf.
Her favorite TV show is Ray Donovan
Frankie and Sol's favorite TV show they enjoyed watching together was Scripps National Spelling Bee
Quotes
"How quickly ecological entitlement becomes environmental rape"
—Frankie to Grace
"Personal lubricant is for everybody!"
—Frankie to Bri
"No no, you cannot kill crickets. They're Mother Earth's tiny musicians"
—Frankie to Jacob
Photos
References
Community content is available under
CC-BY-SA
unless otherwise noted.