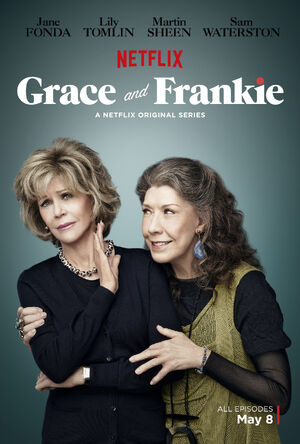 Grace and Frankie
is an American comedy series which premiered May 8, 2015 on Netflix. The series is created by Marta Kauffman and Howard J. Morris, and stars
Jane Fonda
and
Lily Tomlin
in the title roles.
Plot
Grace and Frankie follows Grace, a retired cosmetics mogul, and Frankie, a hippie art teacher, whose husbands, Robert and Sol, are successful divorce lawyers in San Diego. Grace and Frankie's lives are turned upside down when Robert and Sol announce that they are in love with each other and are leaving their wives. Now, the women, who have never particularly liked each other, are forced to live together and support each other as they navigate the next chapter of their lives.
Cast
Special Guest Stars
Estelle Parsons as Babe (2,5)
One of Frankie and Grace's good friends
Sam Elliott as Phil Milstein (Season 2)
Grace's old flame
Recurring cast
Ernie Hudson as Jacob (1—4)
A love interest of Frankie's
Peter Cambor as Barry (2—present)
An accountant for Say Grace
Peter Gallagher as Nick Skolka (3—present)
A business mogul who clashes with Grace and Frankie
Craig T. Nelson as Guy (Season 1)
An adventurous college friend of Robert's and Grace's love interest.
Guest stars
Geoff Stults as Mitch (1—3)
Mallory's doctor husband of more than seven years.
Mary Kay Place as Amanda (1—2)
One of Frankie and Sol's oldest friends
Joe Morton as Jason (1—2)
One of Frankie and Sol's oldest friends.
Christine Lahti as Lydia Foster (Season 1)
Robert's sister and a close friend of Grace.
Episodes
Media
Images
Videos